Tik Tok is a social media app that has swept the nation and allowed its users to be their own video publishers. With this...
Digital classrooms in offline classes and school LMS in the online one are the new normal for the students in today's world. These are...
There comes a time in everyone's life where the realization finally sets in: you're an adult, responsible for your physical and emotional well-being. Once...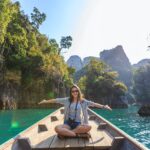 A vacation is supposed to relax you and prepare you for the stresses of everyday life at home. Vacation is meant to be free...
Do you feel let down by your life's lack of accomplishments? If that's the case, it's time to examine your everyday behaviours and decisions...
Aging is inevitable, and as we age, our bodies undergo many changes that can affect our skin. One of these changes is the breakdown...
Most of us are looking ahead to the future and what it may hold. For those of us concerned about the environment, one of...
What Are Managed IT Services? Managed IT services means hiring third parties to look after the information technology management of an organization. They enable your...