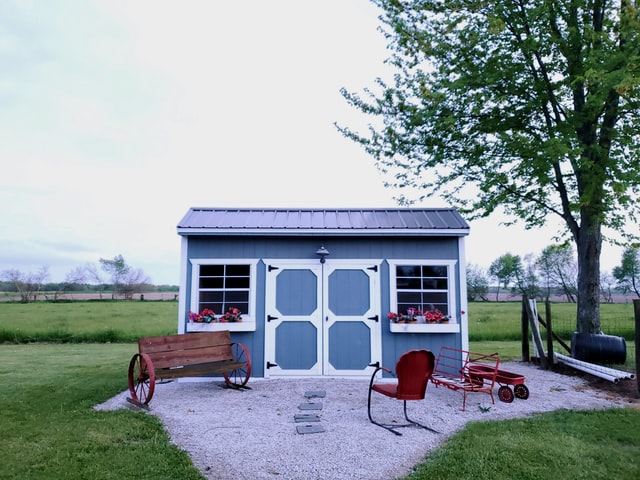 She-sheds are growing in popularity. This is the equivalent of the man cave for the woman of the house. This is a space where she can get away from the hustle and bustle of family life. A she-shed offers extra livable space that is some distance away from the main house.
Many have opted to use their existing garage as a she-shed because the transformation process is relatively straightforward. A garage can become a great place to watch movies, do arts and crafts, read, and have friends over. If you are looking at turning your garage into a she-shed, here are some things that could help.
Improve the Lighting
Something that all she sheds needs is excellent lighting. Adding adequate lighting to your garage sets the proper tone for the space. The intensity and location of the illumination will vary based on the purpose of the she shed. For example, if you are looking at crafting, you want to make sure that there is sufficient light throughout the garage.
If you are looking at using your garage as a space for tutorials, set up lighting that will look good on camera and make your videos clear and easy to see. If you looking for a place to sit and read, you can't go wrong with soft lights.
Walls
If your garage is not insulated, consider having garage insulation installed during the spring months. This will keep your garage more comfortable during the winter and summer. Extend your home's central heating and air to the garage.
When it comes to painting your walls, feel free to make them as unique, wild, or girly as you want. The colors you choose for your wall paint can range from sophisticated to fun to everything in between.
Adding custom cabinetry is a must for a she shed, especially if you are going to use it for crafts. If it is going to be used as a reading space, built-in bookshelves and reading nooks can make the space feel cozy.
Electrical Power
Most garages are equipped with electrical power. However, if you want your she-shed to be a place where you can do crafts, watch movies, or engage in other activities that require electricity, it is a good idea to have an electrician upgrade the electrical system. This way, you will know that your garage can safely accommodate all of the appliances and equipment you want to use.
Doors
Various types of door sweeps can make your she-shed a lot more comfortable by sealing the gap between the bottom of the door and the floor. This prevents insects, sound, light, and drafts from infiltrating your space. Door bottom sweeps are an inexpensive and simple way to improve the insulation of your she shed. This is especially important if you are investing in heating and cooling the space.
Windows
Windows are a phenomenal way to take a dingy shed and turn it into an attractive place full of natural light. Natural light brightens up a space, making it more appealing and relaxing. If your garage allows for it, why not add in some skylights?
Installing a large window is an amazing addition to a she-shed. However, if that is not possible, installing a bunch of smaller windows grouped together will have a similar effect. You may opt to replace the existing garage door with an all-glass door. This lets you open up the space and allows more light in.
Furniture
Your she shed is a small place. So why not pick a few high-end pieces to make the space luxurious? In the same way that your wall color can define the feeling of your space, unique fabrics can also make the space feel special. Beautiful colors and luxurious fabrics should be the criteria you use when choosing the furniture in your she-shed.
Since it is a space just for you, you won't have to worry about your pets getting hair all over the place or your children spilling beverages. This is a space uniquely designed for you.
Don't Delay on Creating the Perfect She Shed
Turning your garage into the ultimate she shed is a lot easier than you may think. With some tweaks to the lighting, walls, doors, furniture, and windows, you can have a space that is the perfect getaway.