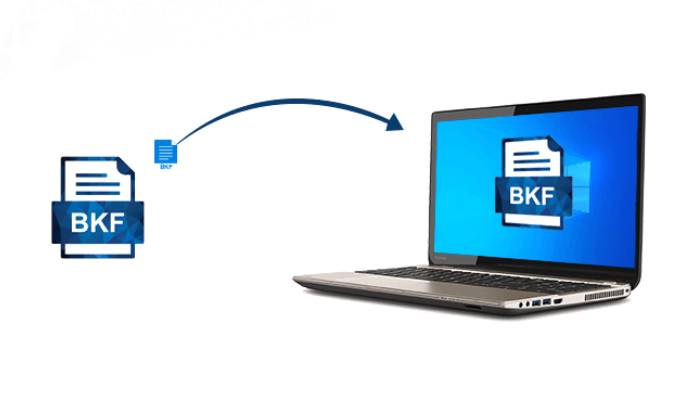 If you are here, then it means that you are struggling to open a BKF File without NTbackup. This blog will discuss the different easy solutions to view the BKF file without NTbackup.
Sometimes users face difficulty in accessing an old BKF File in windows. These backup files are created by Windows NTBackup Utility. This utility is an inbuilt backup application launched in Windows in the year 1997.  And was again launched with all the successive versions of Windows and Windows 2000, WindowsXP, and Windows Server 2003.
NTBackup has a backup file format i.e, BKF that cannot be viewed with any third-party utilities except for some commercial, costly alternatives tools built up by companies who had to buy the BKF license.
Nowadays, data is a very crucial part of everyone's life at both personal as well as professional levels. Data are stored in different forms such as doc, file, audio, video, images, etc. And to keep these crucial data safe and secure users create a backup of data as a duplicate copy of the data. But sometimes it becomes a complex task to access or restore the backup data on our system because of several errors and external problems.
So here in this write up we will fix these issues faced while accessing a corrupt BKF File. Let's start by discussing the reason why we can not access or view the BKF File.
Why we can not view the BKF file without NTbackup
There may be several reasons due to which users are not able to view the BKF file  but here we will see some of the major and common reasons:
Due to the virus or malware attack
Sometimes there are CRC Errors in BKF Files
Maybe your Hard Disk crashes
Due to failure in Software or Hardware.
Error Lists while viewing Windows Backup Files
As these files are so delicate and sensitive they are easily vulnerable to errors when you try to open BKF files. Some of them are given below:
Error-'Failed to open file'
Error-'Cannot open .bkf file'
Error-'The backup file is unusable'
Error-'An inconsistency was encountered on the requested media' etc.
Here we discussed the reasons and some of the errors that we face with corrupt BKF Files. Now Let's discuss how to fix these errors.
Manual way to open BKF files
To access the BKF files, first of all, install the NTBackup.exe. You can also sore or place the files in C:\Windows\System32. It has two other DLL files named Ntmsapi.dll and vssapi.dll. Save these files in the same location where you saved the NTBackup. And then follow these below steps:
Right-click on the NTBackup.exe and then press on Run as Administrator.
A Welcome to Backup or Restore page will open. Now an Advanced Mode feature is opened and then hit on the Next button.
Here, press on the Restore and Manage tab button.
Go through the instructions and at the end, tap on the Finish button to recover the .bkf files to their original location.
This way you will successfully open the corrupt BKF File. But for this approach you must have NTbackup in absence of Ntbackup it is of no use.
Now, Let's discuss a very simple and easy way to open BKF files without NTbackup.
How to open a BKF File without NTbackup?
As there is no possible manual way to open the BKF Files without NTbackup so you have to use a professional tool to solve this issue. Using the best Cigati BKF File Repair Tool to open a BKF File without NTbackup. This file viewer is one of the most trusted freeware utilities to view or access a BKF File. It is developed with an advanced algorithm and can be used very easily and reliably. The tool helps you to fix even badly corrupt or damaged BKF files and makes these files accessible.
Conclusions
Here in this write-up, we discussed how to open BKF files without NTbackup or damaged BKF files. Hope this blog will be proven helpful to you.