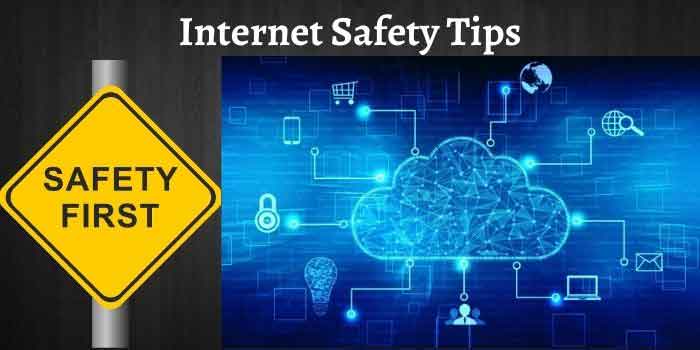 Many of us like to spend our free time surfing the internet and is relying on it. But in today's time, online data theft or hacking has become a major concern. Have you ever think about how to get rid of this problem? Don't worry, today we have brought together the internet safety tips that you should need to follow while surfing.
Internet safety can also be known as online safety, cyber safety, and e-safety. Internet safety has become so important because it can prevent your personal information from getting exposed. All of you should be aware of internet safety tips to save your data from getting leaked.
What Is Internet Safety?
Internet Safety is the procedure of staying online and be safe online. It can include the risk that is associated with your online activity. Internet safety is sometimes also known as Online Safety, Cyber Safety, and e-safety. Everyone should be aware of this term whether you are children or parents.
10 Tips That Can Help In Internet Safety
Given below are the 10 internet safety tips that one should be aware of.
Don't Spread Your Personal Information: Online buyers don't need to know about your personal information. They never ask about your background or any information to get in touch with you. Don't pass such information to millions of people online.
Use A Strong VPN Connection: There are many VPN service providers available in the market that can provide good internet safety. You will have to decide the best one. One of the best VPN for providing good internet safety is NordVPN. You can buy NordVPN at a cheap price by using the NordVPN coupon code.
Keep Your Personal Data Offline: It is very difficult for hackers to get access to your personal information if it is offline. This is why it is said that you should not share your personal information online to get better privacy.
Always Choose A Strong Password: Passwords are one of the easiest means of getting access to your personal data. People always make the mistake of choosing an easy to guess password. The password you select should have a special character, number, and must be 8-15 characters long.
Always Use Two-Factor Authentication: Two-Factor Authentication always provides your account with additional protection. While login in with two-factor authentication, you will be asked for an additional code that will be sent to your phone.
Check The Downloaded Files: You should regularly check the downloaded files as some of the files can prevent harm to your data. There are many files that will be very harmful to you.
Keep Your Privacy Setting on: You should always turn on your privacy setting as it can help in securing your data. All your data will be kept secure if you turn on the data privacy feature.
Make Online Payment From Secure Sites: You should always do the payment only from the secure sites. Some of the hacking sites can save your card details online and can do wrong activities.
Always Keep An Updated Antivirus: You should always have an antivirus as it can help you to protect yourself from theft. We will also recommend you to keep an antivirus if you don't have one.
Backup Your Data Regularly: You should always keep a strong back up of your data because many malware can lock your files. It is one of the best ways to prevent the threat of ransomware.
Why Is Online Safety Important?
If you are aware of online safety then you can be prevented your personal data and information from getting exposed. If you don't do online safety then there will be a risk on the internet that can harm your device. It is very important for a person to know about online safety as it can help them from becoming victims of online theft.
Online safety can help children from providing extra information to any site. Online Safety has become very important for everyone nowadays because many online crimes are increasing. Many of us are working from home and surf important things that might be related to the company's personal information. So to avoid the risk of data leakage you should take proper steps.
Conclusion
Online safety has become very important for those who make use of the internet mostly. There are many personal things that are to be kept very safely on the internet. You should be aware of the tips that are to be kept in mind while doing online activities. We have discussed each of the points very clearly. I hope you get a complete overview of the Internet Safety tips from this article.