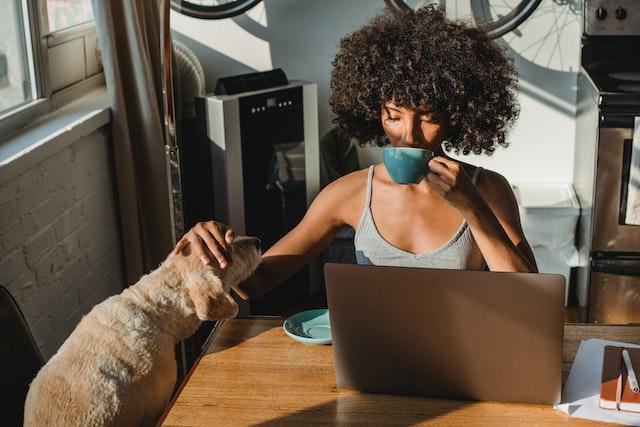 Working at home with pets is challenging. However, many people find a successful balance between taking care of their obligations and tending to their pet's needs. Here are eight helpful tips you can use while working from home with your pet.
1. Don't Give Into Whining
Working from home requires avoiding all distractions as much as possible to meet your goals. If you have a dedicated home office, your pet may start to cry when you shut your door. As hard as it is, never give in when they start whining. Once you've let them in, you have shown them that this behavior pays off. Their whining may seem nonstop at first. However, it should ease up after a few days of consistency.
2. Remain Flexible With Your Schedule
You never know what challenges each workday may bring. Perhaps you've made a habit of walking your dog for an hour every morning before you sign into work. Unfortunately, you can't predict the weather or how heavy your workload is on any given day. Perhaps you must wait out a thunderstorm and skip your morning walk, or your workload fluctuates throughout the week. Be flexible so you can tend to your pet's needs without feeling overwhelmed or inconsistent.
3. Make Meal Times Easier With Subscription Services
Providing your pet with healthy, nutritious food is a challenge. Meal times are more difficult during busy workdays. Consider signing up for a raw dog food subscription. Raw diets benefit dogs in many different ways. Not only does raw food improve their digestive and immune systems, but it can also help with weight management and decrease their allergy symptoms. These subscription services take the guesswork out of mealtime and are perfect for busy professionals.
4. Tucker Your Pet Out Before Signing On
Start your day with quality time with your pet. Feed them breakfast, play with them, and take them for a walk. By starting their days with stimulating activities, they may tucker themselves out. Getting their naptime to coincide with the beginning of your workday allows you to focus on your most important tasks without interruption.
5. Create A Safe Space For Your Pet Far From Your Home Office
If your pet is very vocal or distracting, it's time to create a safe space for them to spend time during your workday. Find an area on the other side of the house that is pet-proof and safe. If you can't find a room for your pet, consider purchasing a pet playpen. You can set it up in the furthest room in your house and put chew toys, treats, and other items inside. You can even set up a baby monitor to watch them.
6. Remember The Benefits Of Working From Home With Pets
Pets help relieve stress and bring happiness into your life. Remember the reasons why you decided to adopt a pet. Although working from home with pets has its own challenges, there are also plenty of rewards. Try to keep this in mind as you find your own personal balance between working from home and caring for your pet.
7. Take Regular Breaks For Playtime
Just like working in a traditional office, you need to take breaks when working from home too. Taking regular breaks throughout your day can improve your mood and boost your productivity levels. Step away from your home office at least four times a day and use this time to play with your pet or take them outside. Not only will you boost your pet's mood, but yours as well.
8. Distract Your Pet During Important Calls
There's nothing more embarrassing than your pet interrupting an important conference call. You'll want to plan ahead and find distractions for them during these meetings. Present them with a new toy or a chew that will keep them busy and put them in a room far away from your work area.
Closing Remark
While working from home with pets is challenging, it is achievable. Many people successfully work from home while enjoying time with their pets. By remaining patient and giving you and your pet time to adjust, you