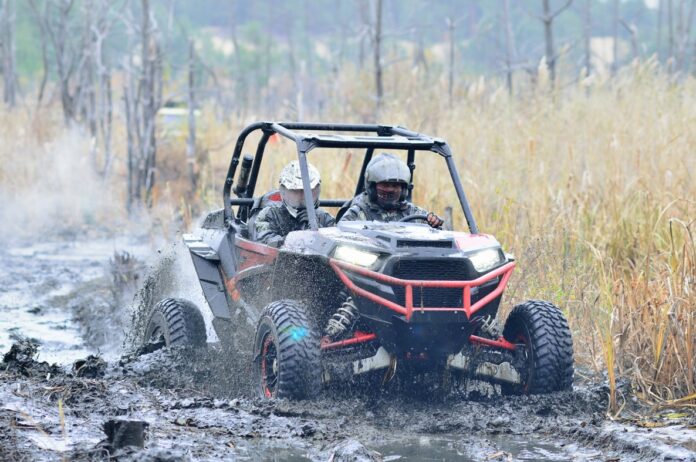 When you hop into your ATV and take it for a spin, you are usually not going down a smooth, paved road. Instead, you are mashing down the accelerator as you quickly go along mountain trails, rural farmland, and other similar areas. In addition to rugged terrain, it's likely that you also find yourself in rainstorms, snowstorms, and depending on where you ride, hail storms. Since most ATVs typically come with bare bars and a simple cage, they typically do not come with any type of enclosure to protect their drivers and passengers. You may be considering buying an enclosure for the less enjoyable weather. When choosing between hard and soft enclosures and trying to decide which would be best here are some pros and cons of each for your consideration.
Cheaper and Easier to Install
If you want an ATV enclosure that is budget-friendly and easy to install, you may want to look at soft cab enclosures. However, don't assume cheaper means it won't be durable and offer you plenty of protection. Soft enclosures are typically made of heavy-duty acrylic-coated polyester and are resistant to tearing, mildew, and water. Additionally, because it is flexible, they usually can just ship to you in a box where you can easily place it on top of your ATV for the perfect fit, meaning that you can purchase it online and install it easily on your own.
A Car-Like Feel
Should you want to be off-roading in your ATV but still feel like you have the typical cab protection afforded you by your car, you may want to buy a hard cab enclosure when looking at various can-am defender accessories. These are typically built to be very solid since the doors and cab is made of coated metal or polycarbonate, the windows of hard cabs are also equipped with safety glass. Even if you aren't concerned about someone shooting at you, it can be useful if you are in areas where there may be falling rocks or if you collide with animals or another vehicle or object.
Adding Additional Features
Should you want to equip your ATV with many other additional features that will provide you with levels of convenience and safety, a hard cab enclosure will probably be your best option. When a hard cab enclosure is added to an ATV, you then have the option of installing other features such as windshield wipers or even a washer kit. If you plan on taking your ATV to places where you are likely to encounter lots of water or mud, these features will be a must-have.
An Open-Air Ride
Finally, should you want to ride your ATV while enjoying the cool breezes blowing in your face, a soft cab enclosure will be your preferred type of enclosure. Once a soft cab ATV enclosure is installed, you can very easily remove its side windows and panels. Some cab enclosures come with zippable windows and doors. This enables you to get some fresh air as you drive while still keeping the cab cover installed and ready to zip up again if the weather turns sour. As an added bonus, your soft cab enclosure will also be easier to clean than a hard cab enclosure, since it can be easily disassembled. Though it is easy to clean the soft cab covers, it is usually pretty easy to clean the hardcovers too. Typically, you'd watch a hard cover the same way you would wash a car.
Whichever type of cab enclosure you decide will work best on your ATV, you are sure to have plenty of fun as you ride the rough terrain of the great outdoors.