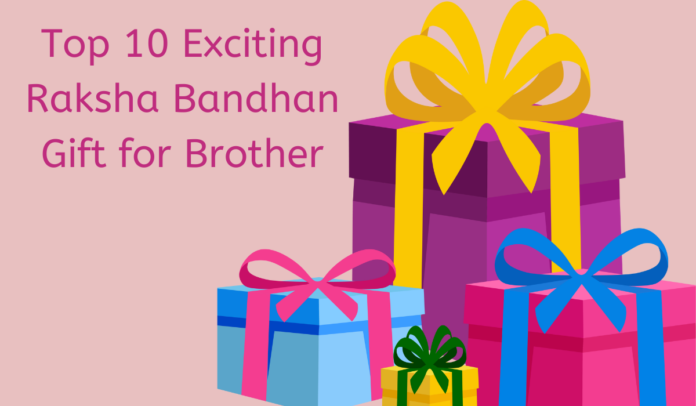 Raksha Bandhan is a widely celebrated festival that deepens the relationship between a brother and a sister. Siblings are similar to Tom and Jerry as they are never tired of fighting with one another. Their bond is unbreakable, and it has survived arguments over the TV remote, bringing each other down and being one other's keeper during the darkest moments. Every year, sisters pray for a long life for their brothers during this endearing event, and the brothers promise to defend their sisters with all their strength. You need to consider many things to make your day exceptional, from making them feel special to coming up with the greatest suggestions for rakhi gifts for brothers. Come lets have a look at one of the most interesting raksha bandhan gift for a brother.
Perfumes
Select a classy perfume bottle to give your brother and get a customized message stamped on them. Who doesn't likes to smell good? This is the perfect Raksha Bandhan gift for your brother, and we bet he will be surprised! Choose perfumes with long-lasting scents for a better impression. The most alluring impressions are considered to be made by luxury brands. Gift the best perfume brand to your brother for this Raksha Bandhan.
Personalized Rakhi Box
No matter how many arguments you have with your brother, his smile can end them all. Such precious experiences should be preserved in a box of memories. The festival of Rakshabandhan makes the memories shine. In accordance with this tradition, a sister ties a sacred thread around their brother's wrist, and in return, the brothers promise to protect them from every obstacle for a lifetime. A perfectly handcrafted rakhi box can be an ideal raksha bandhan gift for brothers. You can place an exceptional floral rakhi or a simple one, all the essentials required for this festivity, his favorite sweet and cute little gift that suits his personality.
Spacious Travel Bag
If your brother is a travel freak and a travel bug bites him every month, then nothing can be a better Raksha Bandhan gift for a brother than a travel bag. Every traveler should have a travel backpack on their list of necessities. The travel enthusiasts who created this bag made sure that each pocket has the right size and room to store different travel necessities. Your brother doesn't need to carry any other bags when he has this on his back.
Fitness Watch And Bands
If your brother is a fitness freak, nothing can make him happy except for fitness gadgets. Fitness bands are handy for various activity types, including running, jogging, cycling, yoga, sports, and gym work. A fitness band or a watch can be the best Raksha Bandhan gift for your brother. The sophisticated fitness band can monitor things like heart rate, blood pressure, distance travelled, calories burned, and sleep habits. Therefore, gift your brother fitness bands and assist them in achieving their daily health objectives.
Skincare and Wellness kit
Men hardly pay attention to their skin; they forget that skin forms the largest part of our body and should be taken care of. A grooming and wellness kit can be the most unexpected Raksha Bandhan gift for a brother. By staying at home, you can offer your brothers the gift of a spa-like experience. There are several important face and skincare kits in the market that include a number of items. These items include a face cleanser, sunscreen lotion, facial scrub, and lip balm created with sandalwood, honey, rose, aloe vera, and other all-natural components. You can add everything to his taste and preference in the grooming kit.
Customized Phone Cover
All of us know that phone covers will never go out of trend until humans are using a phone. A beautifully customized phone cover with your brother's initials will surely make him happy. A mobile cover can be an appropriate and as well as a best Raksha Bandhan gift for a brother.
Cookie Box
No matter how old we grow up, the love for cookies and chocolates hardly fades. Get a beautiful box and decorate it with cute little cutouts and add messages in small folded papers into that box. Fill that box with all his favorite cookies, candies, and chocolates. You can also add a few snaps of you and your brother. We bet this would make him salivate with happiness. This cookie box would even take him down memory lane. Nothing can be as beautiful as this Raksha Bandhan gift for your brother.
A photo frame
When it comes to gifting something to your sibling, then what can be a better gift in comparison to a photo frame. Photos have the capability always to take you back to the lovely time spent together with your siblings. Get a funny memory framed in a cute photo frame and gift it as a Raksha Bandhan gift for your brother.
Headphones
Nowadays, headphones are a must. With continuously changing technology trends, it becomes difficult to sail along with them. Additionally, using headphones while exercising or traveling is incredibly convenient. As headphones are necessary for both work and enjoyment, they are a great present for your siblings. Gift a classic pair of Bluetooth headphones as a Raksha Bandhan gift for your brother and surprise him.
Classy Sunglasses
Sunglasses are everyone's favorite. A classic pair of sunglasses always enhances your entire look. Gift a branded pair of sunglasses to your smart brother and surprise him. Nothing can be a better Raksha Bandhan gift for your brother other than this.
Author Bio:
Akashdeep Sharma is an Indian Blogger. Writing about technology, food and traveling, sports and health has been his forte since he took up writing seriously as a career. Before that Akash used to write on seasonal events and people used to follow him for advice like how to send rakhi online, where to spend your vacations etc.