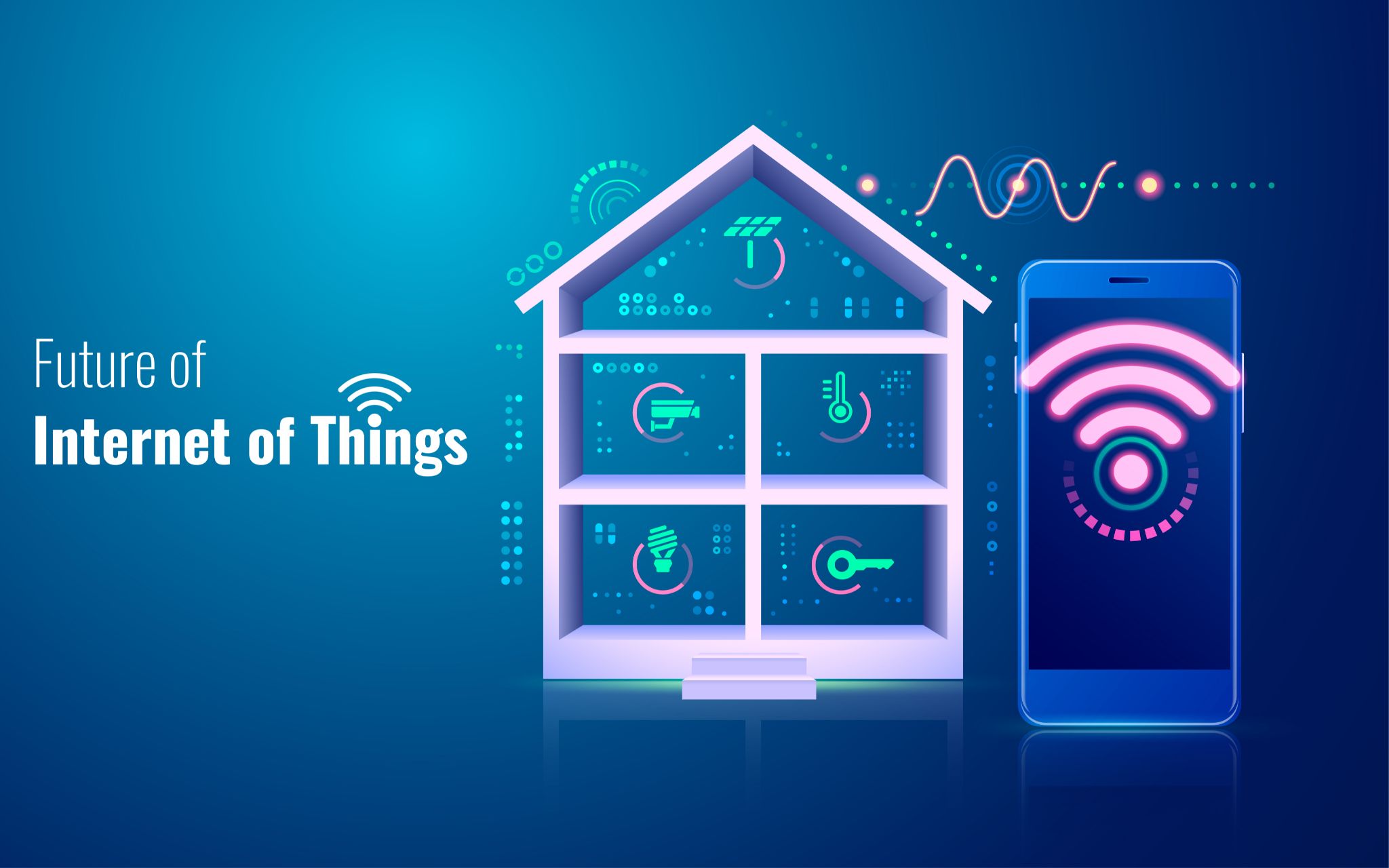 IoT or the Internet of Things has drastically changed our way of connecting with each other, our surroundings, and the devices we use.
 It has also brought about a change in the world of business in almost every sector. It gives a clear indication of the potential of IoT. 
With the advancement of technology, IoT has been improving and enhancing day by day. IoT development is steady with newer and newer additions making it advanced with more useful features as well as facilities.
 The future of the Internet of Things looks quite bright with an enormous scope. So, let us delve deep into the topic to understand the future of the Internet of Things or IoT.
Focus on Security Advancements
The major focus of IoT in the time to come is the advancements in security. As of the year 2020, the world is populated with more than 26 billion smart devices that have undoubtedly made our lives easier in a number of ways. 
At the same time, it has given us concerns about security and privacy. Due to the widespread as well as diversified nature of IoT devices, they are prone to data breaches and attacks. 
Therefore, the future of the Internet of Things is focused on dealing with the security challenge.
High security is beneficial not only for the customers but also the service providers who take advantage of the increased sales as well enhanced customer trust.
 The future of the Internet of Things would see more embedded and end-to-end security solutions along with a rise in investment in the visibility of IoT devices. 
In addition to this, blockchain, artificial intelligence, machine learning, and edge computing solutions will begin to feature in a much more prominent manner in security solutions for IoT systems.
Cities and Homes Would Transform to Smart Cities and Smart Homes
Smart homes are slowly and steadily bridging the gaps for making life easier as well as more comfortable for the homeowners which is why they want to live their dreams of a smart home. 
There is a steady investment in IoT development especially in smart home technology and it is expected to increase further with time. The Internet of Things has a major role to play in its enormous popularity. 
Home automation, smart kitchens, and smart home security systems are to name a few which are all set to advance with time.
It is not only the consumers who would be buying and using IoT devices but also the cities, as well as companies, are increasingly adopting smart technologies to save time, effort, and money. 
Smart cities and companies mean that they would be able to automate, remotely manage, as well as collect data via different things such as video camera surveillance systems, visitor kiosks, etc.
IoT in Healthcare
The future is all set to see a massive rise in the use of the Internet of Things in the healthcare industry. 
IoT solutions focused on healthcare would come into focus in a major way. There have been a number of predictions by experts regarding an IoT revolution in the healthcare sector.
 The sector has always been on the slower side when it comes to the adoption of the Internet of Things.
 But the scenario has already started shifting. In the year 2019, the overall IoT healthcare market was valued at 57.6 billion dollars approximately with the speculation of crossing 350 billion dollars in less than a decade.
The future is all set to see the Internet of Medical Things or IoMT devices and IoT-based healthcare systems & solutions playing a vital role in the healthcare industry. 
A number of healthcare practitioners have already started using teleconsultation services as well as other non-contact modalities for providing non-emergency patient care majorly due to the COVID 19 pandemic.
 Several reports reveal that there would be about a billion virtual healthcare visits by the end of 2021. The pandemic has added fuel to the overall process of modernizing the healthcare system. 
The future expects a considerable rise in remote monitoring solutions along with the increasing use of health trackers, wearables, and sensors.
Most importantly, IoT would find increased usage in the hospital for cutting down the unwarranted contract. Investment in IoT healthcare has already been soaring with the expectation of further increase. 
It is expected that the next few years is very likely to be the golden age of IoT healthcare.
IoT Based Work from Home Solutions
IoT, artificial intelligence, and machine learning are the three big things in the future of work from home solutions.
Due to the COVID 19 pandemic, a considerable volume of employers from all over the world has completely shifted to work from home.
 So, we are ready to see a future with more and more employers opting for the work from home option. 
A combination of IoT, artificial intelligence, and machine learning helps organizations to become more efficient with the increased productivity of their employees.
In the logistics, transport, and manufacturing industry that have previously depended upon physical presence, IoT is all set to bring about a change.
 IoT development solutions will help these industries in cutting down the dependence on manpower. 
Monitoring, as well as surveillance systems, would not be dependent on manpower anymore with IoT solutions taking care of the same, thereby eliminating the need for human intervention.
Where is IoT Headed to?
IoT technology is not the same as it was about a decade back but with the passage of time it is catching up the pace with no intention of stopping in the near future.
 In the years to come, IoT will be omnipresent in our lives, and with its enormous scope in almost every field, there is no one stopping it for sure.
Author Bio – Ritam 
Ritam Chattopadhyay is a seasoned writer with over half a decade of experience in professional content writing. Ritam's expertise in content writing has enabled him to work with clients globally on different projects. Presently, he is working with SoluLab, a premium blockchain, AI, and IoT development company where he handles multiple projects as a content specialist.