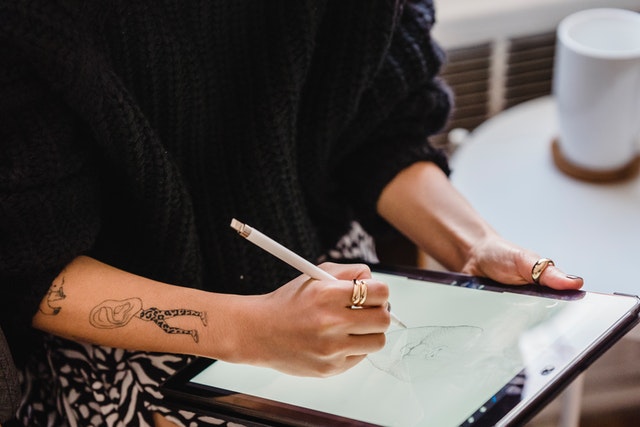 Are you feeling uninspired or hoping to add something to your artwork? No matter your art medium, there are now many types of tools and technology that can help bring your art pieces to another level. Read on to see what you can try!
1. Palette Knife
A palette knife is a classic tool that helps add dimension and uniqueness to a painting. Palette knives come in many shapes and sizes and create differently textured strokes than the typical paintbrush. You can use it to scratch away layers of paint, create very thin lines, or build up thick ridges for a three-dimensional effect.
2. Fixative
If you're doing an art piece that involves materials that can be easily smudged, you might want to look into a fixative. A fixative is a sprayable resin solution that will preserve any marks you make on the page. It's useful if you want your lines to be precise while working with a finicky medium or if you want to work layer by layer.
3. Masking Fluid Pen
Masking fluid pens have a needle tip that can create fine lines and dots and protects the drawn-on areas. You can paint or draw over the dried masking fluid, then when you are finished, rub it away to reveal the layer underneath. This creates stunningly precise negative space in your artwork.
4. Tablet Scanner
Tablet scanners, such as the ISKN Repaper, copy every stroke of the pen or the brush as you draw on paper. Anything you draw on paper is then saved digitally. Not only is it a good way to digitize your work, but you can also create a timelapse of your drawing process to share.
5. Digital Software
Some of the most popular digital software are Procreate, Adobe Photoshop, and Adobe Illustrator. Procreate is used on the iPad. It uses raster graphics and takes input from a stylus. A wide selection of digital "brushes" help simulate the feeling of drawing on paper. Adobe Illustrator uses vector graphics – a series of points and lines – and is popular among graphic artists or logo makers. Adobe Photoshop has both brushes and vectors as well as a variety of tools that make it ideal for photo editing.
6. Digital Color Sensor
The digital color sensor enables artists to capture vivid and unique colors in real life. It can scan a surface and convert that scan into the digital color codes in the color modes (for example, RGB and CMYK) that you choose. This opens up a world of possibilities for digital artists. When inspired by what you see, instead of taking a poor-quality photo, or squinting at a digital palette trying to distinguish the hues, you can directly sample the colors right in front of you.
7. Framing
Art framing can completely transform a piece. Not only does the style of frames influence the art, but it can create different effects when on display. Canvas stretcher bars are an important tool for canvas artwork. Stretching the canvas over bars creates a firmer surface to paint. Framing using canvas stretcher bars can be a simple, tool-free, and low-cost way to create a professional-looking finish for artwork. It is also a good way to prepare a canvas artwork for framing.
8. Lighting
Whether you want to sell your art or simply enjoy it on the wall, lighting can help show your piece to the greatest advantage. There are many types of lighting that can work depending on your space, budget, and the size of your artwork. Someone who wants portable lighting for a smaller piece in a cozier space might consider picture lights.
These lights can be directly mounted to the frame of an art piece and can also be decorative elements themselves. Someone who desires more expansive lighting for a larger piece or gallery might consider recessed ceiling lights that hit the art at thirty degrees. Recessed lights, being hidden, create lighting that doesn't detract from the artwork itself.
Closing Thoughts
It can sometimes be hard to find new inspiration. With these tools, you can have a little fun with your art and experiment with new techniques and technology, reigniting your creativity!