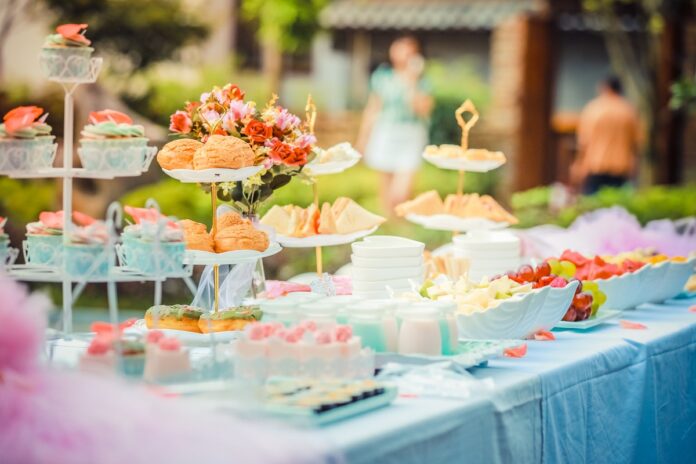 Planning a party is challenging when planners don't follow a workable menu. Hosts know that the wrong menu can mean the difference between enjoying the party or spending more time in the kitchen than with guests. Six quick and easy party food and beverage ideas are below. Regardless of the occasion, these recipes will leave you plenty of time to enjoy your guests and the party.
1. Crab Pinwheels
Ingredients:
1 8 oz pack of cream cheese
1 6 oz can of crab meat (drained)
¾ cup of diced red pepper
½ cup of shredded cheddar cheese
2 green onions sliced thin
3 tbsp parsley
¼ to ½ tsp cayenne pepper
6 flour tortillas
Directions:
Stir cream cheese until smooth. Add crabmeat, red pepper, cheese, green onions, parsley, and cayenne, and mix.
Spread ⅓ cup mixture over each tortilla. Roll tight. Chill for 2 hours.
Preheat the oven to 350. Slice each into 6 rolls.
Bake until bubbly or about 10 minutes. Serves 7-12. Serve warm.
2. Slow Cooker Pizza Dip
Ingredients:
½ lb ground beef
½ lb ground sausage
1 28 oz can of crushed tomatoes
½ cup diced green pepper
¼ cup grated Parmesan cheese
2 tbsp tomato paste
2 tsp Italian seasoning
1 tsp minced garlic
¾ cup crushed red pepper flakes
¼ tsp salt
2 loaves of French bread
Directions:
Cook ground beef and sausage for 7-10 minutes (until pink is gone). Drain fat.
Put meat in a slow cooker. Add remaining ingredients, except the French bread.
Stir well. Cover and cook on low for 2-3 hours. Serve warm with sliced French bread.
3. Easy Summer Cocktail
Ingredients:
¼ cup of sugar
4 oranges, scrubbed – 2 cuts into slices, 2 juiced
2 (750 ml) bottles of red wine
1 cup of Triple Sec
2 apples, cored and diced
1 cup brandy
2 cinnamon sticks
Ice
Directions:
In a pot, mix sugar and ¼ cup of water.  Stir over heat until sugar dissolves.
Let the mixture cool and put in a large bucket or bowl.
Add sliced oranges and juice from the other 2 oranges.
Add red wine, triple sec, cinnamon sticks, and diced apple.
Chill. Put in pitchers full of ice for guests to serve themselves.
While that recipe is quick and easy, there are cocktail mixes that take the ease to another level. Mixers that you only have to add alcohol to relieve hosts of creating a drink for each guest's taste. With these mixers, there is no fuss, no mess, and no fancy tools necessary. According to Flighty Premium Mixers, their flavorful mixers will "transport your guests to the tropics and forget about messy clean-ups."
4. Bacon Cheddar Potato Skins
Ingredients:
4 large baked potatoes
3 tbsp canola oil
1 tsp grated Parmesan cheese
1 tsp salt
¼ tsp garlic powder
¼ tsp paprika
⅛ tsp pepper
8 strips of bacon, cooked and crumbled
½ cup sour cream
4 green onions, sliced
1 ½ cups of shredded cheddar cheese
Directions:
Preheat the oven to 475. Cut cooked potatoes in half lengthwise. Hollow out the potato (save the filling). Put skins on a greased baking sheet.
Combine the Parmesan cheese, salt, garlic powder, paprika, and pepper. Brush mixture over skins, covering both sides.
Bake until skins are crisp on both sides – about 7 minutes on each side. Take out of the oven and add cheddar cheese and crumbled bacon to each. Bake for another 2-3 minutes.
Top with a dollop of sour cream and onions. Serve warm.
5. Blue Cheese Potato Chips
Ingredients:
1 8 ½ oz bag kettle-cooked potato chips
2 medium tomatoes
8 strips bacon, cooked and crumbled
6 green onions, chopped
1 cup crumbled blue cheese
Directions:
Preheat broiler. Arrange potato chips in a 15x10x1 inch baking pan. Top chips with all other ingredients.
Broil for 4-5 minutes until the cheese melts. Serve hot.
6. Lemony Fruit Cooler
Ingredients:
½ cup sugar
½ cup lemon juice
4 cups cold white grape juice
1-liter club soda, chilled
½ cup sliced strawberries
½ cup sliced peaches
1 orange, cut in half
Directions:
Mix sugar and lemon juice in a pitcher or punch bowl until the sugar dissolves. Stir in grape juice.
Before serving, stir in club soda and fruit. Serve over ice.
Conclusion
As you have read, planning a party can be challenging. Hosts want to enjoy the party and spend time with their guests. Therefore, six quick and easy party food and beverage ideas are below. Regardless of the occasion, these recipes will leave you plenty of time to enjoy your guests and the party.