Getting engaged is probably one of the happiest moments in every couple's life. It not only connotes love but also signifies the commitment to be legally bound to each other.
Even so, what comes after can be stressful, especially for the bride-to-be like yourself. You may need a year to plan for the perfect wedding. You have to choose the best invitation design, song for the first dance, cake, menu, flowers, and more.
Luckily, you have an entourage who are very much willing to help you: your bridesmaids. Besides planning the bachelorette party, they also invest their time and money in dress fittings and sending invitations.
Your girlfriends deserve a big THANK YOU for being there throughout your wedding journey. The best way to show your appreciation is by giving them a memorable gift!
How Much Should You Spend?
Weddings can be super expensive. According to Statista, the average cost of a wedding in the United States is estimated to be $34,000. The budget includes the venue, music, photographer, décor, wedding dress, rings, and gifts for the bridesmaids.
As a rule of thumb, expect to spend between $75 to $150 on a bridesmaid's gift. You'll want to spend more on the gift for the maid of honor, who has shouldered more responsibilities for the wedding.
Of course, you're free to splurge on lavish gifts for your girlfriends if you have the funds, especially when they've put tremendous work into your wedding. However, be sure to plan and include the costs on your overall budget to ensure that your budget stays on track.
What Should You Give?
Thinking about what to give your bridesmaids can be overwhelming. Don't fret! Remember that they're your people. Thus, you probably know them inside and out. For starters, consider the kinds of things your girlfriends appreciate and value. You can also refer to the following list:
1. Luxe Box Set
The best skincare ingredient is beauty sleep. According to experts, 7 to 9 hours of sleep recharges, re-energizes, and detoxifies skin cells for better and healthier skin.
Make sure your bridesmaids get a good night's sleep before your wedding by gifting them a customized at-home luxury and pampering kit. You can include a face mask, scented candle, bath bomb, and essential oils.
2. Hair Accessory
Are you planning a beach wedding? A personalized sun hat is a perfect gift for your bridesmaids. It's aesthetic and, at the same time, keeps them protected against the intense UV rays.
Other hair accessories you can gift your bridesmaids are a beaded floral crown they can use during the wedding ceremony or a Y2K-inspired hair clip they can wear for a cute photoshoot.
3. Robe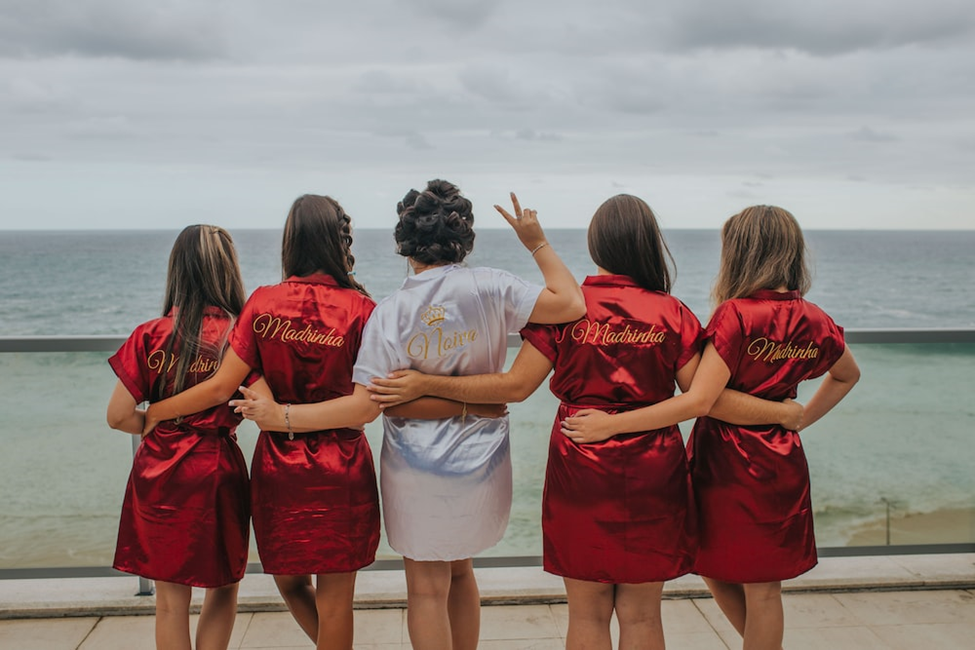 A robe is the most practical gift you can gift your bridesmaids. It's customizable and multipurpose. Your girlfriends can wear it during the events leading up to the wedding (e.g., bachelorette party, hair and makeup, and wedding photoshoot). They can even wear it at home and on vacation.
Invest in a quality robe. An embroidered waffle robe is an excellent option as it's made of lighter material but still warm to use.
4. Jewelry
Girls love jewelry. If you want to pull out all the stops to thank your bridesmaids for their love and support, shiny necklaces, bracelets, and rings can do the job.
Are you looking for a way to add a more personal touch to your gift? Opt for a friendship jewelry set or include a jewelry box with their initials written on top.
5. Purse
Are you searching for an elegant accessory to give your bridesmaids? Consider an acrylic and gold purse or a stylish faux leather tote.
This gift idea brings glam to your wedding ceremony and can be used on other occasions. You can make it extra special by having their names or initials printed or embossed.
6. Tumbler Set
Hydration is essential for many reasons. It regulates the body temperature, keeps the organs functioning properly, and many more.
A BPA-free acrylic tumbler or a colorful travel cup is a great gift to remind your girlfriends to stay hydrated. Customize their tumblers with their name or initials for that personal touch. You may also add a metal straw to prevent smudging of their lipstick.
7. Compact Mirror
A customized compact mirror is a gift that comes in handy on your big day. It makes it easy for your bridesmaids to check their makeup before they head down the aisle, make a speech, or hit the dance floor. Plus, it's easy to carry in a clutch.
You can go plain or opt for a floral design. Whichever you decide, be sure to coordinate your chosen color or design with your wedding motif.
8. Snug Slippers
After all the prepping and partying, your bridesmaids would probably want to get out of their high stilettos immediately. Thus, no bridesmaid will ever say no to a new pair of cozy slippers.
Gift your girlfriends with fluffy slippers embroidered with their first names or initials. You can opt for white or choose their favorite colors if you aim to impress them more.
9. Lipstick
A 2011 study reveals that lipstick is the best present for women. The same may still hold true ten years later. The usage of lipstick and lip gloss in the United States has increased from 122.59 million in 2011 to 122.87 million in 2021.
Of course, don't settle with just buying any lipstick for your bridesmaids. Have your gift engraved with their initials, or put it inside a customized pouch.
10. Phone Case
A custom phone case is the safest and most valuable gift to give your bridesmaids. You'll be assured they'll use it since they have a phone.
Instead of printing their names or initials on the cases, opt for a monogram or photo phone case that best defines your friendship.
For example, you can design your phone case with an anchor to remind each other that you'll be one another's support no matter what happens.
When Should You Give the Gift?
The giving of gifts has no specific timeline. You can do it before, during, or after your wedding.
As per The Knot, the best time to deliver your gifts to your bridesmaids depends on the type of gift you'll be giving. If your gift is to be used during your wedding, you should give it to them during your bachelorette party or rehearsal dinner.
Also, delivering gifts to your bridesmaids before your wedding can help lessen the stress involved in your wedding preparations. In particular, you don't have to think of a place to stow their gifts safely.
Conclusion
Whether there's a gift or not, your bridesmaids will surely be present at your wedding. After all, they want to witness one of the joyous chapters in your life. As such, always keep in mind that the thoughtfulness of your gift matters more than its price. Go for a gift that serves as a souvenir for your wedding and commemorates your friendship with your girlfriends.