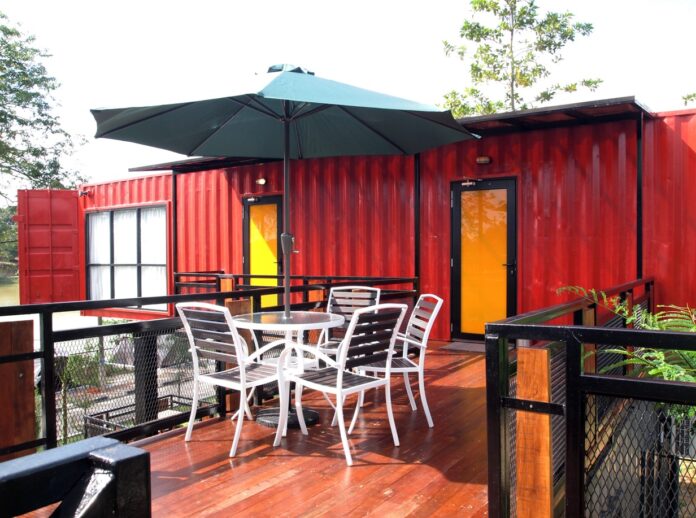 As the world becomes more and more digitized and environmentally conscious, it's no surprise that people are finding new and innovative ways to use storage containers, also known as shipping containers. Storage and shipping containers are metal boxes typically seen on cargo ships and sometimes on semi-truck beds. They can range in size with the smallest being only a couple of feet wide. However, the standard sizes are typically 20 or 40 feet long and eight feet wide. Though they are built for shipping cargo long distances, they have also been used in other ways too. Shipping containers can be a cost-effective way to make an amazing space. Here are three of the most creative uses for storage containers that we've seen so far.
Portable Office Spaces
One of the most popular uses for storage containers is portable office spaces. Their size makes them perfect for small businesses or startups that need a temporary space to work out of. Plus, they can be easily moved from one location to another. Companies that work on location with multiple workers, such as construction contractors or designers typically need an office on location to manage everything. This makes shipping containers is ideal for these companies that are always on the go. They take little modification to get them up to regulation and you can add windows, HVAC, and other features that you would typically find in a regular office. Ideally, they can accommodate office workspace for up to 8 people. Often the cost of a shipping container is less than that of a mobile home, which has traditionally been used for this type of office space.
In addition to companies that work on location, portable office spaces can be ideal for work-from-home employees or business owners. If your home doesn't have enough space for an office but there is yard space available, then a shipping container can be a great way to make that space used for your office. Plus, depending on your local regulations, you can stack containers to make even more space for either work or hosting events.
Houses
Yes, you read that correctly. It's hard to imagine taking a big metal shipping container and converting it into something liveable, but the creatives out there have done just that. While it may not be the most luxurious structure, storage container homes are becoming a popular option for people who want to downsize or live in a more sustainable way. They can be outfitted with all the amenities you need and can even be made to look pretty attractive from the outside. Some people opt for a single-container minimalist home, while others go all in – stacking and combining units from LDS Enterprises until they have a truly unique and incredible space to call home. These units lend themselves well to a more contemporary home style and can be blended beautifully into natural surroundings.
Pop-Up Stores
Another creative way to use storage containers is as pop-up stores. This is perfect for entrepreneurs who want to test out a product or service in a certain market before making a long-term commitment. Storage containers can be outfitted with everything you need to run a small business, from shelving and racks to a checkout counter. And since they're portable, you can move them to different locations depending on where your target market is. This type of business is perfect for things like selling artisanal goods, clothing, or even food.
These are just a few of the ways that people are using storage containers in creative ways. As you can see, their versatility makes them perfect for a variety of different purposes. So if you're looking for a new and innovative way to use storage containers, your imagination is the only limit.