Heading to the nail salon for a fresh manicure or pedicure is always an exciting experience. Not only is it a chance to pamper yourself, but it's an opportunity to experiment with new nail shapes, lengths, colors and artistic designs. If you're looking for inspiration for your next salon visit, read on for some of the top nail art trends that will have your nails looking oh-so chic! If you want something futuristic and playful, alien nails are a hot new trend right now.
Minimalist Nails
One of the hottest nail trends right now is the minimalist nail look. This clean, simple style focuses on neutral nude or pale pink polish colors with one accent nail per hand featuring a thin graphic line in white or black. The minimalist manicure is the essence of modern elegance and looks beautiful on short, square-shaped nails or longer almond-shaped tips. 
Ask your manicurist to apply two coats of a nude or light pink polish all over for the base color. Essie's popular Mademoiselle or Sand Tropez are perfect soft pinks for this. For the accent nails, have them paint on a skinny straight line down the center of the nail in a bright white like Essie's Blanc. Or go for bold with a jet black line down the middle. The contrast of the graphic line over the neutral background keeps the look clean and contemporary. It's an easy nail design that makes a sophisticated style statement.
Glitter Ombre Nails
Ombre nail designs remain a favorite trend, with a new twist featuring glitter! Glitter ombre nails create a shimmery gradient effect that resembles a glittery sunset on your fingertips. 
To get this sparkly ombre look, start by having your nail tech apply a layer of black, navy or dark purple polish on the tips of each nail, fading it up into a lighter color like pink, nude or lilac. The ombre effect looks best when the dark color starts about midway down the nail bed. Once the ombre base is dry, have them apply a layer of glitter polish like OPI's More than a Glimmer or Essie's Kind of Magic over the entire nail. The glitter will concentrate more heavily on the lighter area of the ombre, creating a striking sparkly fade. Finish with a shiny topcoat to lock in the glitter.
Fruit-Themed Nails
For a playful summer manicure, go for fruit-inspired nail art! Whether you love watermelon, lemons, strawberries or any other vibrant fruit, you can get super cute fruity designs on each fingernail. Fresh fruit manicures are bright, cheery and ideal for vacation.
Discuss the fruit you want with your manicurist and they can recreate it in miniature on each nail. Tiny fruit decals like strawberry slices or lemon wedges applied over a matching fruit-colored base polish create a realistic fruit salad look. For watermelon nails, ask for a red base with some green tip accents, plus little watermelon seeds and rind decals. You can also opt for fruit shapes painted directly on the nails. The options are endless for creative fruit nail art! If you need more summer nail inspiration, this guide covers exciting beauty trends for 2023.
Floral Nail Designs 
What's more feminine and pretty than painted floral nails? Rose, daisy, tulip and other floral nail art designs are totally on-trend this season. Go for soft pastel painted flowers against a nude manicure base for a super sweet, romantic look. Up the girly factor by adding 3D acrylic floral embellishments on your ring fingers.
To get this look, select your favorite flower and pick 2-3 pastel polish colors that complement it. Have your nail tech paint simple floral shapes like roses or daisies across your nails, switching up the colors. Apply 2-3 coats of polish and finish up by gluing tiny 3D acrylic floral charms on your ring fingers. The combination of painted and embellished flowers creates a multi-dimensional, ultra-feminine manicure.
Retro Polka Dot Nails
Polka dots never go out of style when it comes to nail trends. This retro design stands the test of time with its classic elegance and versatility. Painted polka dots in different sizes and colors layered over a sheer base polish creates a stylish dimension on the nails.
For your own polka dot manicure, opt for navy, red or black dots over a nude base. Or invert the colors with sheer white dots on a bold red or black background. Discuss dot size preferences with your nail tech. Mixing up sizes from small accent dots to large spots helps give that retro polka dot flair. The options are endless when it comes to the color combinations too – get creative! This simple, artistic dot design works for any season.
Marble or Agate Nails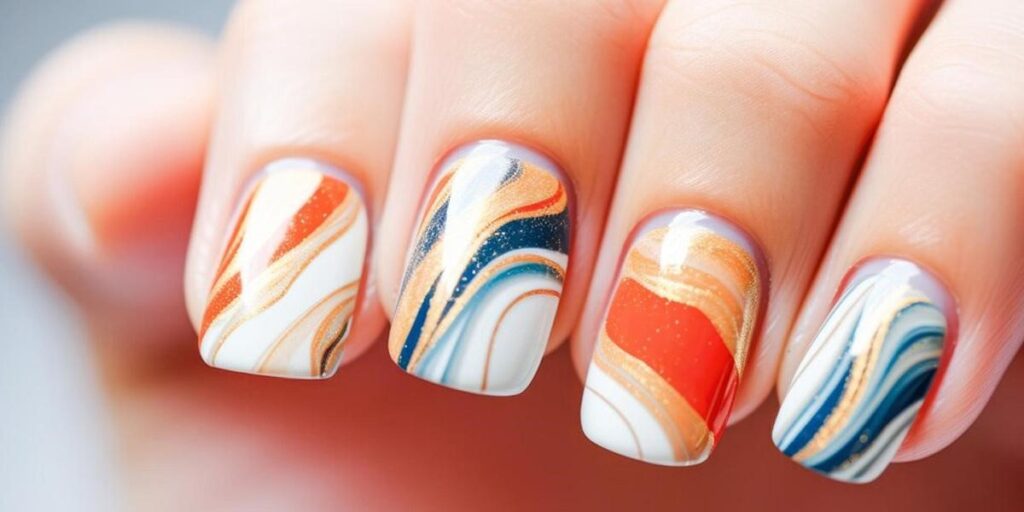 Nail art that mimics natural stone is a huge trend right now. Marble and agate designs give nails an earthy, organic look with beautiful flowing lines and colors. To get the coveted stone appearance, opt for shades of gray, tan, brown and white swirled together.
Have your nail tech first apply a clear base coat to protect your nails. Then ask them to create the marble effect using various striper polishes in contrasting colors like dark gray, brown, tan and cream. The polish should be applied using fast, swirling strokes layering the colors randomly to achieve that natural stone look. Finish with a fast-drying top coat for shiny, smooth marbleized nail art.
Graphic Geometric Nails
If you're looking to go bold and make an artistic statement with your nails, go for geometric prints and shapes! Triangles, lines, circles, squiggles – the options are endless when it comes to creating abstract nail art designs. Contrasting bright colors like neon green, pink and electric blue make the geometric patterns pop. 
Discuss your preferences with your nail tech first. Do you want alternating color blocks and shapes on each nail? Or one graphic print that spans across multiple nails? Nail stickers, striping tape, dotting tools and striper brushes can all be used to create geometric works of art on your nails. Get ready to show off your cool, graphic style!
Heading to your next nail salon visit armed with some fun design ideas is the best way to ensure you walk out with an on-trend, envy-worthy manicure! Whether you're dreaming of fruity nails perfect for summer, chic marble tones, or bold geometric prints, discuss your vision with your manicurist and relax while they work their artistic magic. With so many trendy options, it's easy to switch up your nail art as often as you change your mind. And don't forget the finishing touch – a long-wear top coat to keep your designs looking fab a little bit longer!