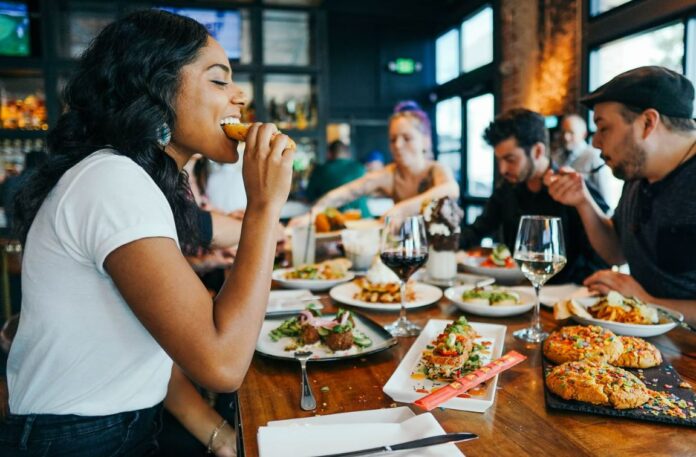 From Cajun gumbo in New Orleans to a slice of pizza in the Big Apple, traveling is a playground for the taste buds for the ardent foodie. It really is a case of so many great foods to try, so little time. If you're a foodie on the road, chasing after your next taste experience, here are five ways you'll find your next (and hopefully, unique) bite to eat.
Get an App
Oh, thank goodness for apps and mobile phones! Nowadays, finding the best restaurants while you're on the road is a simple affair. According to iMore, review staples, like Yelp, as well as food-specific recommendations, like Happy Cow, make your quest for dinner ever so easy. For those who need certainty when it comes to getting dinner reservations, OpenTable caters to the dinner reservations crowd. With nearly unlimited food choices on the road, an app can help you narrow down the prospects.
Ask the Locals
No one has their ears to the ground quite like the locals do. The host at your hotel's concierge's desk can point you toward an eatery that hasn't made it on the app map yet. The local grocer has the scoop on the farm-to-table restaurants that get all the raves. You can even just ask strangers you meet in a coffee shop for local recommendations. In short, the locals know all the dives that everyone in town loves but that few outside the city know. These people's food advice has more worth to the die-hard foodie than all the gold in Fort Knox.
Take a Walk
If you're the adventurous type, then naturally, one of the best places to find a downtown restaurant is to start walking. Booking a hotel or an Airbnb close to the center of town means you can easily explore the lay of the land on foot. You might even discover that the hotel you booked is right next to an award-winning coffee shop. The extra benefit here is that you not only see all the food possibilities, but you also smell them, too. Talk about yummy!
Read a Travel Guide
There's a reason that travel guides, like Fodor's, exist. Another brave soul, the travel writer, has scouted out the possibilities and has written them down in one place for you. The advantage here is that you learn what's around the restaurants, too. For example, if you know you'll spend the day in the local museum, then a quick peek in the travel guide tells you where to go after your art tour reaches completion.
Join Social Media Groups
Before your trip, you can join various groups on social media. This is a great way to connect with locals or other foodies. You can ask for specific recommendations based on what areas you will be traveling to. You can also search for hashtags related to restaurants in your travel destination. You can scroll through images to see what looks appealing to you and add it to your list of places to try.
Finding excellent food on the road represents a big score for the taste buds for the traveling foodie. If you're about to embark on your next culinary adventure, then you'll want to make note of some of the best places to eat along your route. That said, it's important to be open to the unexpected. After all, food adventures are meant to be just that: adventures. Use some of the above tips to find the best restaurants to try at your travel destination.