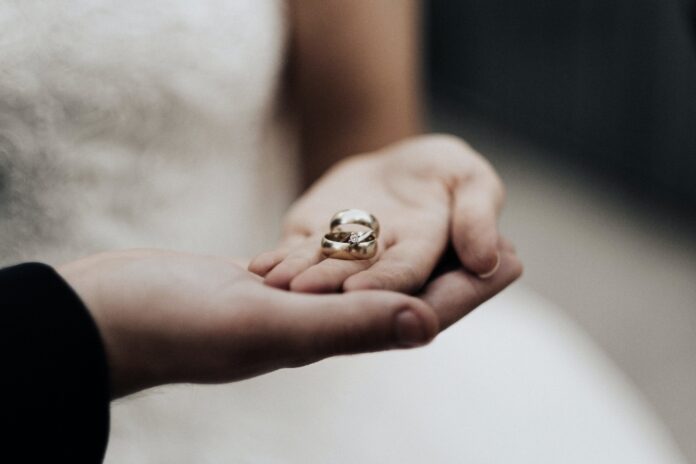 Finding the ideal wedding band can be overwhelming, considering the plethora of available options. Unlike the engagement ring, shopping for wedding bands requires critical considerations as you are shopping for yourself and your partner. Read on to learn all you need to find the perfect wedding band that matches your preference and lifestyle.
1. Budget is Key
Take a breather if you're in a hurry to go shopping for your wedding bands. Setting a clear budget before you hit the jewelry stores for wedding band shopping is important. Besides helping you settle for wedding bands you can afford, a budget will save you disappointments when shopping. You don't have to eat into other wedding costs or go into debt when there is an extensive range of styles and sizes for every budget.
However, setting a budget for your wedding bands entails more than just comparing expenses. You have to be comfortable with what you decide to spend and what you can purchase without sacrificing quality.
2. Start Shopping Early
Typically, couples wait until the last minute to shop for their wedding bands. However, finding the perfect wedding bands takes time, and waiting until the last minute will leave you with limited options. Ideally, you should start shopping for your wedding bands as early as three or four months before the big day to explore various wedding band inspirations and reconsider your options. If you're in for a custom-made design or engraving your rings, you will need even more time.
3. Shop Together
Since you'll both be rocking wedding bands, shopping is a fantastic chance to take part in this wedding preparation endeavor together, sprucing your relationship journey. Shopping together ensures you and your partner enjoy the experience and get what you adore.
Although shopping together could ruin the surprise, it saves you the hassle of guessing your partner's size. By shopping together, your partner can try out the rings beforehand and settle on the best fit. Also, you will get a second opinion on unique men's wedding bands from your partner to help narrow your choices.
4. Consider Your Lifestyle
Many couples tend to wear their wedding bands every day. If you plan to do this, it is prudent to factor in your lifestyle when selecting the perfect ring for your big day. The nature and dynamics of your lifestyle will determine the type of metal and design that best suits you.
If you have an active lifestyle, you should consider choosing more durable wedding bands to avoid premature wear and tear. Popular metals like tungsten, palladium or titanium are durable and stylish. Also, try to skip chunky designs and settle for narrower wedding bands to maximize practicability.
Maintenance is another essential factor when choosing the best wedding for your lifestyle. The more detailed the band is, the more time and attention you will need to keep it in pristine condition. Therefore, a simple classic gold or platinum wedding band is well recommended if you seek to avoid extra maintenance.
5. Think About Customizing Your Design
If your companion is affectionate, obtaining a bespoke design can be remarkably special to them. It is important to remember that anybody can stroll into a jewelry shop and purchase the first wedding band they see, but working with a skilled jeweler to create a personalized piece demonstrates how much you appreciate your partner.
The current trend sees couples engraving nostalgic memories to their wedding bands. You can pass up the conventional ring engravings and explore contemporary or personalized designs. That said, if you wish to engrave something on the inside of your wedding ring, remember to select wide enough bands to accommodate your inscription.
Finally, you don't have to worry about matching the wedding bands with your partner. Although choosing matching bands is a classic wedding trend, don't feel compelled to match bands with your partner when you have varying preferences. Exhibit your personality by customizing your wedding band to fit your taste and style, and let your partner do the same.
Final Word
If you plan to tie the knot with your better half, you can always find the perfect wedding bands. All you need is to plan and execute the selection process properly. The insightful tips in this article will help you enjoy a smooth wedding band shopping experience.