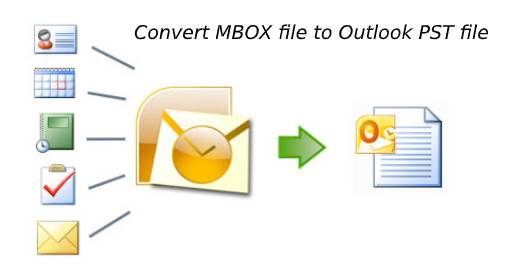 A  PST file format which stands for personal storage table is an exclusive file format designed by Microsoft. It Stores copies of messages, calendar events, and other items on its software programs, including Microsoft Exchange Client, Windows Messaging, and Microsoft Outlook. PST file formats are still a part of business communication.
Sometimes, due to several reasons, many users want to convert PST to MBOX and other file formats. Here are the most recommended most beneficial strategies for converting PST to MBOX File format.
Why Users Need To Convert PST Files Fo MBOX File Format
There are some important reasons here, due to which the users may have to convert the PST Files into MBOX File Format. So, Before we proceed with the conversion process, let's look at some reasons to migrate PST to MBOX files.
Because MBOX files are a more used file format users need to convert PST files to MBOX.
When there is a situation of switching jobs users wants data in the form of MBOX File Format.
At the time of Corruption of Outlook Files users urgently need to convert files.
In the situation of, business /organization changes their operating system owners converts PST to MBOX file format.
Manual Method To Convert PST Files Into MBOX File Format
To convert from PST to MBOX File Format, users first prefer the manual method. So, Some steps of manual methods have been explained here.
First, Install MAC Outlook on Mac Book and operate it to convert.
After that, select the File and click Menu >> Import Option.
Now, select the Outlook data file in the new window and click on the  Next button.
To continue, select the "Outlook for Windows" data file under "Select file type".
Then you need to download the PST file and verify the data folder in the PST file
Now, drag the PST folder and drop it on the desktop. In this way, the PST file will be converted to MBOX.
You can then seamlessly import the converted MBOX file into compatible Mac Mail.
Limitations of the Manual method
However, the manual method is free but there are many interruptions while processing manual methods. The manual method causes users to get upset. So, Some limitations of this method are being mentioned below :
It is a very challenging approach for non-technical users.
The manual method is lengthy and extremely time-consuming.
It only works in Apple mail MBOX Format.
There is a risk of major data loss if the steps are not followed accurately.
Professional Method To Convert PST Files To MBOX File Format
To avoid the hassles of the manual approach, the user always wants the help of a better and reliable approach to get a solution.  One such tool is the PST Exporter Tool which easily converts PST Files into MBOX file formats and others like MSG, PDF, HTML, EML, etc. With this professional PST Exporter Tool, users can finish their work efficiently and avoid getting entangled in many difficulties. This tool saves data at the time of processing, thereby reducing the risk of data loss to the users.
Wind-Up
Here, we have talked about manual and professional methods of changing from PST to MBOX File Format. So we saw that there is a lot of problem with manual methods, which hinders the users to complete the work. Therefore, It would be a better decision to select smart ways for users.  By choosing the professional method, users can complete the work in a smart and easy way. Because there is neither a risk of data loss nor time wastage which is a very smart option for the users.