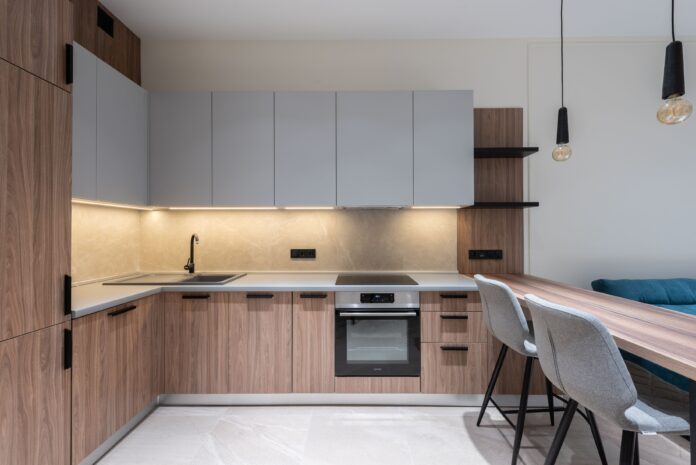 Are you thinking about making some serious home improvements? Kitchen remodelling is a great way to upgrade your home and be more comfortable. However, it's also a good step to take if you're thinking about selling your home in the future, as modern kitchens boost the value of a house significantly. Sadly, most kitchen remodelling projects not only take a long time to complete but also cost a lot of money. If you're hoping to save some money but still remodel your kitchen, here's how you can do it:
Change your backsplash
It doesn't matter how careful you are when cooking and doing the dishes; there will be some backsplash and stains on the tiles. This is the reason why kitchen tiles are always so messy and why different backsplash solutions are in such high demand. If you're unhappy with what you now have at the moment and would like to upgrade your tiles, you can easily do it without going bankrupt in the process. There are many peel-and-stick tiles to choose from, and you will easily find something you will fall in love with that will fit in your kitchen décor perfectly. These tiles are an affordable and convenient way to spice up your kitchen in just a few hours without making a huge mess in the process. And the best thing is – you can easily replace them with different ones when you need a change.
Paint the cabinets
You are probably already bored to tears by the very sight of your kitchen cabinets. This is understandable, as they aren't something that people change often. If you're thinking of ordering new ones, you can achieve the same effect with a bit of elbow grease. Take time to sand down your cabinets, remove the old paint, and choose a new one to repaint them. It's astonishing how much of a difference a fresh coat of paint actually makes, especially if you make it brighter than before. Of course, you should always aim to paint the cabinets a colour that matches the colour scheme of the entire kitchen, as you don't want them to look displaced.
Upgrade your appliances
It can be tempting to buy new appliances for your kitchen every time you see a big "sale" sign in a store. While this is a good strategy to save a few bucks here and there, it doesn't mean that it's the only way. Other appliance options include upgrading your old ones – it will save you a lot of money! You can even find specific appliance spares online and buy the right one for your appliance model. Many appliances you already have in your kitchen will work just fine in years to come with only minor upgrades and repairs, so don't be in a hurry to get rid of them just yet. Whenever possible, weigh the cost of repairing something and ordering a new one – oftentimes, you'll be able to save a lot by repairing an old one instead of replacing it.
Get some fancy lighting
There is no way you can prepare food safely in a badly lit kitchen. Kitchen lighting is crucial not just for preparing food, but for cleaning too. You want to be able to see what you're doing at all times, and while natural light is great to have and rely on during the day, having only one dim light to work with is a bad idea. Overhead lighting is convenient to install, but it can be harsh for your eyes, especially when you're trying to read the recipes and measure the ingredients. Under cabinet lighting is a great solution because it will make your kitchen appear more modern, it will be easy on your eyes, and you can install it on your own without issues. This lighting doesn't cast harsh shadows as overhead lighting does, and your eyes will appreciate the change.
Replace your old drawer handles
It might come as a surprise, but the little thing such as drawer and cabinet handles play a huge part in the way your kitchen looks. Not only should the handles be convenient to use, but they should be pretty to look at, too. With so many options out there, you can make your kitchen appear more modern or completely retro with the right handles. There are those that resemble jewels, those that look like pieces of wood, shiny plastic, as well as luxurious metal ones. Order them online and easily replace your old ones in a few hours.
Remodelling and upgrading your kitchen is a great way to increase the current value of your home on the market, but it's not the only reason why you should consider doing it in the first place. By making small yet significant changes around your kitchen, you're actively working on making your life easier. Of course, such changes can cost a lot, but if you take time and do some of them on your own, you'll be able to achieve the same results or only a fraction of the cost.