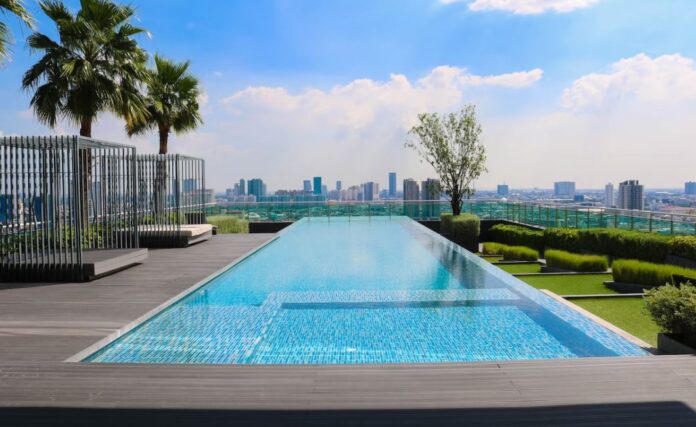 Are you looking to upgrade your backyard with a new pool? Whether you want it for entertaining guests or just as a place of relaxation, having an up-to-date swimming pool design in your backyard can be the perfect addition to complete any landscape. Here are five unique and creative swimming pool designs that are sure to make even the dullest backyards into something extraordinary! From subtle shapes to luxurious extras, these contemporary pools will have you diving in with delight!
Infinity Pool Design
Infinity pool designs are versatile and perfect for creating a modern, sleek look in your backyard. With an infinity edge, the water will seamlessly blend in with the landscape around it, allowing you to enjoy a sense of peace and tranquility. Using visually stimulating materials such as limestone, travertine, or slate will also give your infinity swimming pool impressive visual appeal. Plus, these types of materials are durable enough to withstand extreme weather conditions to protect your investment for years to come. The combination of a stunning design and quality materials make an infinity pool design a great choice for homeowners who want their backyard oasis to be both stunning and enduring.
Geometric Pool Design
Geometric pool designs have become increasingly popular, bringing a modern flare to your backyard. A geometric shape adds a lot of drama and defines the overall look of an outdoor space. Whether it's an eye-catching oval or an elegant infinity edge design, people are beginning to opt for these unique shapes that match their style and personality. If you're looking to jazz up your outdoor area but don't want traditional rectangular designs, then a geometric shaped pool is the perfect addition to your backyard. With its symmetrical lines, this contemporary pool design is sure to add some sophistication and draw in the lookers. Talk it over with a custom pool builder who can help you choose the perfect shape for your backyard!
Natural Pool Design
Nothing says "luxury living" better than transforming your backyard into a relaxing outdoor oasis. If you're looking to stand out from the crowd and make a statement, then a natural pool design could be just what the doctor ordered. Natural pools seamlessly blend both style and nature, utilizing the beauty of plants and rocks to create an inviting space that feels like part of the natural environment around it. Every aspect of the pool is chosen carefully, leaving no detail overlooked in creating an amazing paradise right in your own backyard. Adding a natural pool design to your outdoor area is sure to give you or your guests a unique experience they won't soon forget!
Lap Pool Design
A lap pool is the perfect way to fit your daily fitness into your current lifestyle, while at the same time enjoying the look and feel of having a luxurious pool in your backyard. With its long, rectangular shape, you can swim lap after lap without ever having to turn around—making it ideal for those who are serious about their swimming and physical fitness routine. This unique design looks elegant and modern, and can be customized with all kinds of decorative touches that makes your outdoor space a retreat for relaxation and exercise. Best of all, it is still wide enough that you could make it large enough to fit more than just one lane of swimming if you'd prefer!
Multi-Level Pool Design
If you're looking to create the perfect retreat in your backyard, why not consider adding a multi-level swimming pool? An added bonus of this type of design is that it offers numerous ways to get creative. Not only can you make different levels for lounging and swimming, but you could also include features such as an in-pool hot tub or an adjacent pool-house. Make sure you have enough space between each level with plenty of room for entertaining, sunbathing, and even outdoor grilling! With a multi-level pool design, you'll be able to transform your outdoor space into a relaxing oasis for friends and family alike.
With a plethora of pool design options to choose from, it's important to take time and consider all the possibilities before investing. Whether you're looking for a sleek infinity pool, exotic geometric shape, natural wonder straight from Mother Nature, convenient lap pool for fitness, or interesting multi-level design to fit your space – there's something for everyone. No matter which design you ultimately choose, you can be sure your backyard will be transformed into a beautiful oasis perfect for lounging under the sun or hosting that next big party with friends and family.