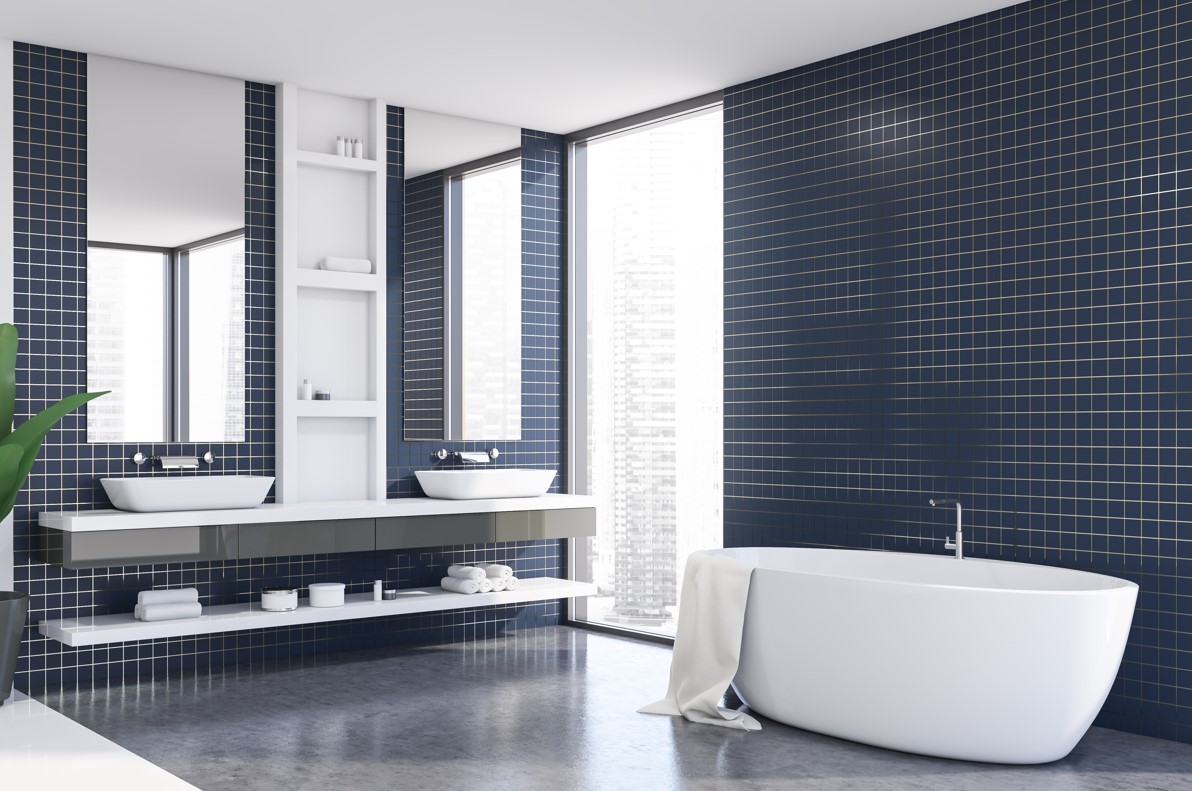 If you're looking to remodel your master bathroom, it can be tempting to focus solely on the aesthetic value of the design—after all, you are the one who will have to live with it every day! While it's important to consider the overall look and feel of your new bathroom space, sometimes neglecting functional details can lead to some frustrating results down the road. Here are four tricks that will ensure your design choices are both beautiful and practical:
Use Shorter Cabinets on One Side
For an instant design upgrade, consider shorter cabinets in the bathroom. Most bathrooms are rather small spaces and long cabinetry can seem overwhelming in an already small room. To give your bathroom a light and airy feel, incorporate shorter cabinets on one side of your vanities to allow for additional storage space elsewhere. The biggest thing with the height of the cabinets is that any cabinet at eye level will take up visual space in addition to the physical space. If your cabinets are shorter than eye level and aren't directly in front of you while you are using the bathroom, it will make the space seem bigger.
Choose a Color Palette Wisely
Color can make or break a room. The right color will come off as serene and relaxing, while others can seem jarring or even repulsive. If you're designing a master bathroom, try sticking with neutral hues—beige, black, gray—as these will reflect light easily. They also have an air of sophistication that gives your space an elegant feel.
If you're determined to branch out into pastels or bright colors, just be sure they still fall within your chosen palette. Designers advise choosing between three and five different shades that complement each other nicely. You should then select furniture that works well with those colors—such as curtains, countertops, and flooring—to create a cohesive look throughout your entire space.
Upgrade to Tile
Make a statement with your design by upgrading to tile. Typically less expensive than solid surfaces like quartz or marble, tile looks sleek and will add an air of luxury to your home. You can use all types of different tiles to get a unique look—perhaps even mosaic tiles for an extra touch of flair. It's ok if you don't have the creativity to create your own mosaic design, then you may be interested in working with a company that does just that. Experts from Norberry Tile, for example, can help you with the right design to make your master bathroom seem perfect.
Change the Lighting
Lighting makes a big difference in how you perceive a room—and bathroom lighting is no exception. To make your master bathroom stand out, try recessed lighting to create an elegant glow. You can also enhance the mood with some flickering candles or even a candle-lighting fixture. Go for soft, warm colors on walls and floors and keep accessories minimal to accentuate all that high-end space has to offer. In addition to the color of the light, you also want to make sure that your light direction provides illumination on the right parts of the bathroom. This typically includes right in front of the mirror and on the toilet. However, if you want the room to seem bigger, then illuminating the corners of the room will also help with making it seem bigger.
Over the last couple of years, bathroom design has come into its own as an art form, resulting in showers and tubs that are just as beautiful as they are functional. If you're renovating your master bathroom, use these four tricks to make the best upgrades yet.