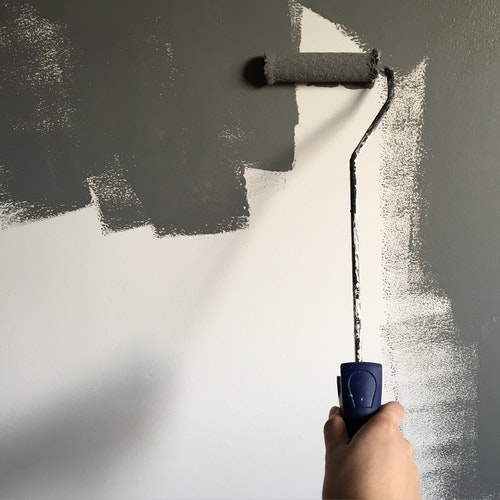 Wall painting is one of the simplest and most economical methods to update a space. Before you go for the roller, though, reviewing some professional advice on how to paint a wall like a pro is a good idea.
Painting a room's interior walls is one of the house's easiest and most common do-it-yourself jobs. But, before you begin painting the walls in your house, read these helpful guidelines for painting your walls like an expert.
1. Create a strategy
Consider how you want the completed job to appear, and remember that you are not restricted to painting four walls or an entire room the same color. Consider painting a feature wall with a vibrant color or accentuating moldings with a contrasting color or finish. And don't forget to check the ceiling to see if it needs to be updated.
If you've been looking at living room paint ideas and pondering if you can make the change yourself, the first thing you need to understand is paint proportions. There is no typical space, so it is vital to estimate how much paint you will need to purchase.
Begin by measuring or estimating the room's length. One step for an adult is about one meter, so begin by standing against one wall and pacing to the other wall. You may then estimate the breadth in the same manner. The perimeter is calculated by adding two times the length and two times the breadth.
If you have huge windows, several doors, or built-in cupboards, you may decrease this amount from the total to prevent excessive purchasing. Finally, multiply the total square meters by two to allow for two coats.
2. Choose your color.
Fan decks and paint chips might be intimidating to peruse. Determine the general color qualities first: do you prefer warm or cool colors? Neutral or saturated? If you already have furniture or artwork, you should consider how the hue will complement them.
Once you know what you're looking for, choose a few colors and order samples. Many direct-to-consumer firms, such as Backdrop and Clare, will give you adhesive swatches that you can affix to the wall to get a better feel of the color (plus, it will save you a trip to the shop).
Examine how the colors appear in the room at various times of the day.
3. Get the right supplies.
When painting a wall, nothing is worse than finding out too late that you lack the necessary equipment and supplies.
A popular favorite for essential equipment is using a roller for painting walls and a 2-inch brush for cutting around the corners. Also, a microfiber roller sleeve is excellent for achieving a smooth finish.
4. Mix your paint.
For the duration of the job, stir the paint, often with a wooden stick. Inconsistent paint stirring might cause the components to separate, jeopardizing the desired hue. If you are using more than one gallon of paint, mix the cans in a big bucket in case of minor color variations. Mixing and matching colors avoid repetition and increase space and legibility.
5. Be prepared for humid weather.
Avoid painting on a wet day since humidity causes drips and slow drying. If you must paint in humid conditions, take your time and use slow-drying paint to repair mistakes before applying the next layer. But don't overwork. Otherwise, it will show in the final product.
6. Cover any surfaces you don't want to paint.
Before beginning a painting job, you will never be sorry for trying to protect floors, furniture, and hardware. Doorknobs may be easily protected with little plastic sandwich bags sealed with tape and drop cloths.
Additionally, placing tarps on the floor before painting the walls helps prevent paint drips and splatters from damaging the floor.
Wrapping Up
The duration of your painting job will depend on several variables: the size of your space, how you paint, and your skill level. However, the paint tips above should be helpful for any paint job that you do.